WHY IS TREATMENT SO IMPORTANT?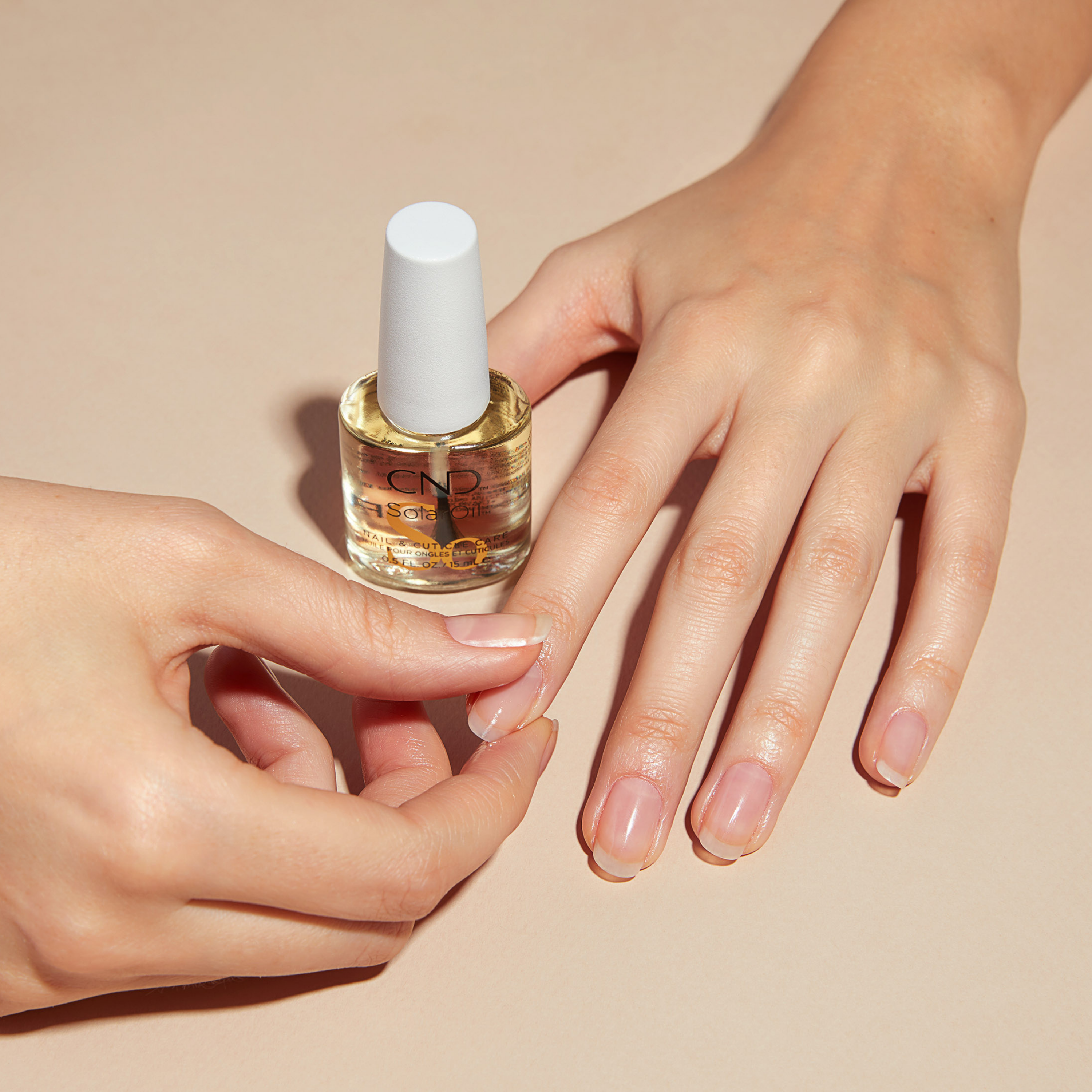 Here's a question (and answer honestly), how much do you actually care for your nails? We're guessing it's probably not all that often....
But, here's another question... how amazing does it feel after you've taken the time to create beautifully manicured nails? Pretty amazing, right? 
Taking care of your nails is essential to the health of your hands. Good nail hygiene can help to prevent infection and keep your nails healthy and strong.
Here's how you can show your nails regular love using CND™ treatments:
CND™ SolarOil™ is perfect for both nail and cuticle care as it conditions dry, damaged cuticles and reduces visible signs of aging. This product is also available in a handy Care Pen for nails on-the-go.
This synergistic blend of naturally light oils and Vitamin E is designed to deeply penetrate and protect skin and nails.
Benefits:
Naturally light oils keep skin soft and supple.

Keeps natural nails, nail polish and nail enhancements tough and flexible.

Repeated use helps drive oils into natural nails and nail enhancements, maximizing the benefits and reducing polish breakdown.
You can finally save those *cry* broken nails! This highly effective daily keratin treatment helps to repair damaged nails that have been impacted by mechanical force and environmental effects. This product is also available in a handy Care Pen for nails on-the-go!
Benefits:
RESCUERXX™ will help stop the perpetuation of further delamination and/or splitting.

The conditioning properties of jojoba oil and sweet almond nurture and soften the skin around the nail plate.
CND™ Cuticle Eraser is an alpha-hydroxy cuticle treatment. Formulated with a conditioning blend of alpha-hydroxy acids (A.H.A.s), this beautiful product will micro-exfoliate the cuticles and moisturise the nail plate and surrounding skin. Complete your treatment with CND™ SolarOil™ for a hydration cuticle cocktail!
We like to think of the Cuticle Eraser as 'shampoo for nails' and the SolarOil™ as the 'conditioner'...
See instant results with CND™ RIDGEFX™, a nail surface enhancer and ridge filler that perfects the appearance of the natural nail by smoothing out ridges and masking imperfections. This magical little product eliminates the need for buffing your nails, so you can avoid the risk of 'over-buffing'.
Are your nails prone to staining? For a natural, enhanced look apply one or two layers of CND™ RIDGEFX™ to clean, manicured nails and follow with your choice of CND™ Vinylux™ Top Coat.